CRUISING - Variantes de sexo muy posibles...
Asombroso, pero posible... - Amazingly, but possible ...
Germán desde Barcelona nos ha escrito:
Amigos de cruisin,
soy un usuario muy adicto a vuestro blog porque me gusta mucho y está muy bien hecho. Me pone. Hoym vengo a comentaros una historia de un colega mío que al ir de cruisin no tuvo mucho exito con tíos porque quizás en el horario que el fue no hubo gente y no se pudo hacer practacamente nada con nadie. A veces ocurre que vas y no hay nadie y te encuentras solo y toca esperar hasta que venga alguien y hacer cosas juntos y eso si cuaja el asunto. Mi colega en cuestión se fue de cruisin y no habiá nadie, serían las entre 20 y 21 horas, todo ocurre en una localidad cerca de Barcelona. Anduvo un poco y ya se pensó hacerse una paja el solito mientras de repente se pasó por allí un tío que parecía travestí. Y se lo ligó a mi colega, sobre la marcha resultó que ese supuesto travestí que mi colega pensó que fue no era un travestí sino una mujer de verdad, una mujer ya madurita. Muy hambrienta de un tío joven que se la follara por si picaba. Se lo propuso explicandole que a menudo venía a ese lugar en busca de un buen tío para que se la folle porque casi siempre tiene el coño muy calenturiento y le apetece una buena polla dentro. Además que es ya una mujer madura y le van mucho los tíos jóvenes. Para follárselos en su casa cercana. No la importaba que si a mi colega le iban tíos o tías, se trataba de follar a lo que mi colega accedió sin problemas porque tenía tantas ganas de meterla en el agujero que fuese que no se contenía. Y picó, se fue con ella a su casa para follársela. Y ella tan encantada. Si fuera posible que lo publiqueis sería magnífico. Y a ser posible si puidiesesis poner algún video adecuado seria más que magnífico y sé que en ello sois unos verdaderos artistas. Los videos que poneis me ponen a mi y a más de un colega.
Un gran saludo desde El Masnou
Germán
Desde la redacción:
Antes que nada agradecerte, Germán, tu amable email, tu adicción a nuestro Blog y la muy breve descripción de la aventura de tu colega. En un cruising pueden pasar cosas muy sorprendentes y muy variopintas. Sabemos que hay mujeres que conociendo lugares aprovechan para pasear por allí por si, igual como en el caso de tu colega, puedan enganchar a alguno (las mujeres que acuden a un lugar de cruising de tíos no suelen ser mironas, van a totalmente otra cosa...). No son solamente mujeres maduras, también las hay jóvenes y hasta muy jóvenes. Son bastante conocidos los innumerables trucos que emplean algunas (¡NO TODAS - OJO!) mujeres desatendidas por sus correspondientes parejas, algunas viudas, en fin cabe mencionar a mujeres maduritas, solas (qué no quiere decir que abandonadas en ese sentido...), etc. Y lugares... hay una gran cantidad de posibilidades también, lugares muy diferentes adónde ir para enganchar al jóven que también necesita deshacerse de la "ansiedad", hay veces que la edad verdaderamente importa muy poco o no importa absolutamente nada. No son, desde luego, casos habituales, pero existen... ¿Y por qué no en un lugar de cruising si la pesca es satisfactoria? De todas formas siempre se trata de conseguir un momento de sexo, de buen sexo a ser posible, de manera anónima y sin compromiso afectivo, o sea hacerlo y ya está. Luego si lo vuelven a repetir algún otro día y si se vuelven a volver a ver ya es otro cantar... Hemos buscado un video que podría servir en reflejar un tanto la aventura de tu colega, en el video es más que evidente que la mujer disfruta del sexo y que, además, lo necesitaba mucho. La apariencia de la mujer tiene una cierta semejanza de un travestí también, podría confundir a cualquiera desde lejos... ¿O no?
¡Ojalá, hayamos acertado!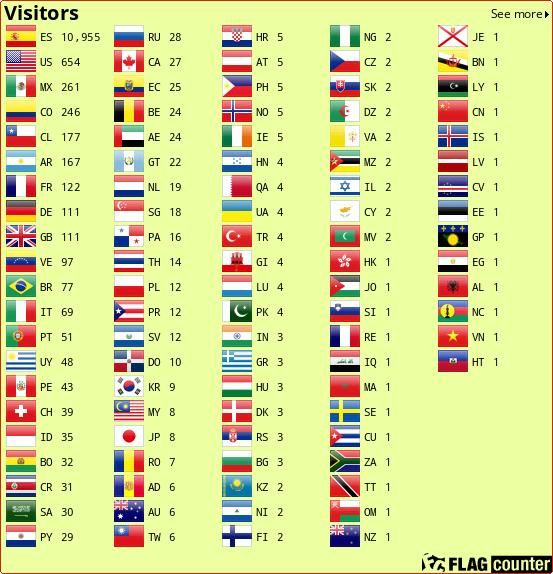 Los dos videos no tienen nada que ver con la aventura descrita
en el post, sin embargo pueden reflejar la situación.
The two videos have nothing to do with the adventure described
in the post, but can reflect the situation.
Les deux vidéos n'ont rien à voir avec l'aventure décrite dans
le poste, mais peuvent tenir compte de la situation.
Die beiden Videos haben nichts mit dem in der Post beschrieben Abenteuer zu tun, aber die Situation zu reflektieren.
Obydwa filmy nie mają nic wspólnego z przygodą opisaną w poście, ale mogą odzwierciedlać sytuację.
Cele două materiale nu au nimic de-a face cu aventura descris
în post, dar poate reflecta situația.
Más entradas podrás ver clickeando abajo en "ENTRADAS ANTIGUAS" o Archivos del Blog - POSTS More posts you can to see click below in "ENTRADAS ANTIGUAS - OLD POSTS" or Archivos del Blog - POSTS